Put Your Culture To Work For You
Employee Stories are as effective as it gets for marketing content, and the common theme in today's talent attraction strategy at top companies revolves around developing and sharing people centric content!
Employer Value Proposition (EVP) content reigns supreme when thinking about Recruitment Marketing strategies! Employer content, specifically employee related content, is what you should be focused on, and what you should consistently be delivering if you want to engage with more talent. Stories from team members and leaders are not effective as "one-off" projects. They're necessary, all the time.
Your company outreach channels require a steady stream of content told by the people who are living your culture.
Here are a few data-supported points to consider:
Employees are the voices all audiences trust the most. [Edelman Trust Barometer]
Candidates consume, on average, 18 different messages about a company before actually submitting their application. [CareerBuilder]
66 percent of candidates want to hear more stories from current employees about a workplace. [Glassdoor]
Team members need stories, too. Only 19 percent of employees feel their experience at work matches their company's employer brand messaging. [Weber Shandwick]
The solution to communicating with all of your audiences is to use employee content to fuel your ongoing delivery consistently. Think in terms of both professional and personal achievements that can be shared!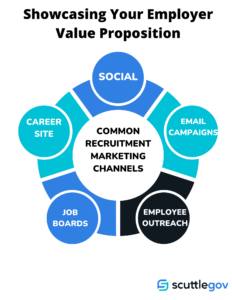 For recruitment marketing specifically, an "always-on" strategy will help your company engage across your social channels, blogs, events, and talent communities necessary to stay top-of-mind with the talent you are seeking, as well as wanting to retain.
Employers / Recruiters – PSA… There are no secret "talent" lakes that you are missing out on! Everyone is working on solving the same problem, and those that have found success building talent pipelines have done so by implementing an "always on" strategy.
Do you have employer branding, recruitment marketing, EVP, or other content questions you'd like answered? Drop me a line!